This week's chart uses the level of spending to examine the share of the federal budget affected by the government shutdown.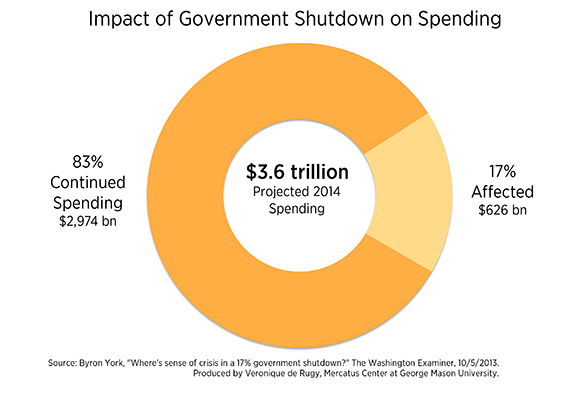 [1]
The shutdown has limited 17 percent of spending, amounting to $626 billion. This means 83 percent of projected 2014 spending of $3.6 trillion, amounting to $2.9 trillion, is unaffected and is continuing uninterrupted. Even if Congress is unable to agree on a spending bill, the government is still functioning, and many Americans who are dependent on various federal programs continue to receive funds.
As my colleague Matthew Mitchell has shown [2], academic research at the state level suggests that government shutdown leads to more spending. Some states shut down their governments in the event of a budget impasse. Others stay open while elected officials hash out their differences. Studies have found that, after controlling for other factors, those states that automatically shut down seem to spend more (on a per capita basis) than those that stay open. The theory is that a shutdown threat seems to strengthen the relative negotiating position of those who favor more spending. 
It is unclear what the impact is at the federal level.
Data Note:
Data is from a recent Washington Examiner article by Byron York, "Where's sense of crisis in a 17% government shutdown?" which cites calculations of OMB and CBO data made by a Republican source on the Senate Budget Committee: "Based on estimates drawn from CBO and OMB data, 83 percent of government operations will continue. This figure assumes that the government pays amounts due on appropriations obligated before the shutdown ($512 billion), spends $225 billion on exempted military and civilian personnel, pays entitlement benefits for those found eligible before the shutdown (about $2 trillion), and pays interest costs when due ($237 billion). This is about 83 percent of projected 2014 spending of $3.6 trillion."