The Bureau of Labor Statistics announced today that the economy added 74,000 jobs in the month of December, well below the 200,000 many economists had anticipated. But Mercatus Center senior research fellow Keith Hall [1], a former BLS commissioner, notes that the decline in the labor force participation rate to 62.8 percent—tied with the month of October for the lowest rate since 1978—represents a bigger long term problem.
"After seeing monthly job gains of approximately 214,000 in the previous four months, it is disappointing to see that the economy only added 74,000 jobs in the month of December and the labor force participation rate dropped back down to 62.8 percent, from 63.6 percent at the start of the year.
"Despite the lower than expected number for December, we averaged about 182,000 jobs per month in 2013, comparable with the 183,000 in 2012. The more critical issue in the long run is that we see strong enough economic growth to encourage jobless individuals to start once again actively looking for work. Even if December's jobs number had met expectations of about 200,000, we'd still have a long way to go for the labor market to fully recover from the Great Recession.
"Further, over the year the working age population grew by over 2.2 million but the labor force fell by 684,000–lowering the labor force participation rate by 0.8 percentage point. This drop is completely responsible for the drop in the unemployment rate in 2013 from 7.9 to 6.7 percent. At 17.1 weeks, the median duration of unemployment remains very high – well above the pre-Great Recession record high of 12.3 weeks."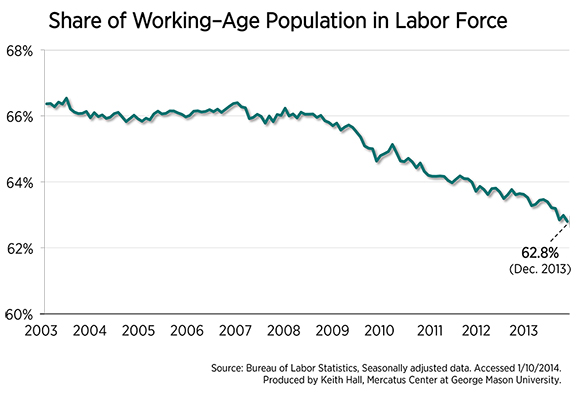 [2]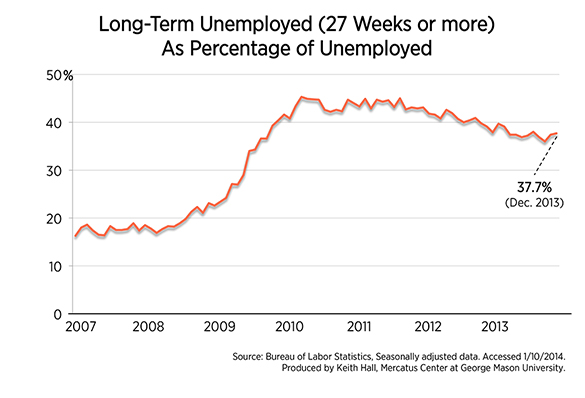 [3]