This week's chart uses data from the Center for Responsive Politics to trace the growth in lobbying contributions for the sugar industry from 2000 to 2012. The level of lobbying contributions in a given year is an intensity-measure of the connection between special interest groups and lawmakers.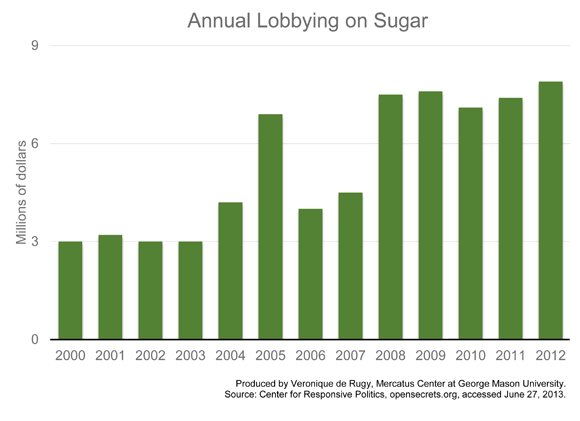 [1]
Annual lobbying contributions have remained above $7.0 million for five consecutive years. The sugar industry spent an unprecedented $7.9 million in 2012, up from $4.5 million just five years before. This amounts to a 163 percent spending increase since 2000.
The incentives for all this lobbying? Keeping sugar tariffs, subsidies, shallow-loss and other crop insurance programs in place so that the producers can enjoy artificially high profits and a competitive advantage against foreign sugar companies. This is what cronyism looks like and one can only hope that it ends soon.