The Bureau of Labor Statistics today announced [1] that the economy added a welcome 288,000 jobs in June.  Further, the acceleration in job growth raised the employment rate to 59 percent in June, its highest level since August 2009.
"The strengthening of payroll job growth is good news," said Mercatus Center Senior Research Fellow Keith Hall [2].  Hall, formerly BLS commissioner and Chief Economist for the White House Council of Economic Advisors, is recognized as one of the top labor economists in the country. "Over the next few months we should watch for a rise in the labor force participation rate as the recent acceleration in job creation might encourage much-needed re-entry into the labor force by discouraged workers.
Hall continued:  "Job gains have averaged 272,000 per month over the past three months, which is significantly higher than last year's average of 194,000 jobs per month. The solid job growth over the past three months suggests that we will likely see a bounce back in GDP growth in the second quarter after the surprising decline of 2.9 percent in the first quarter.
"The bad news is our historically low labor force participation.  The rate in June was unchanged at 62.8 percent and continues to be at its lowest level in more than 35 years. This critical job market measure is failing to bounce back from the recession and represents a major concern.
"And while job gains slightly lowered the unemployment rate from 6.3 percent to 6.1 percent, we should be mindful that the unemployment rate remains artificially low due to weak labor force participation.
 "We certainly need the kind of job gains in today's report, but we also need the labor force to expand and to see structural improvements in the economy, or this historically slow recovery will fail to pick up steam."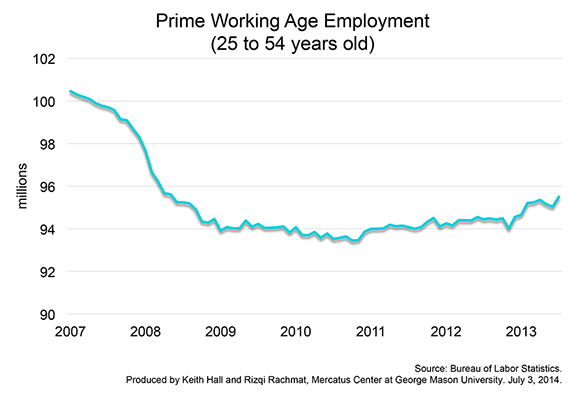 [3]