Mercatus Center [1] senior research fellow Keith Hall [2]—former commissioner of the Bureau of Labor Statistics—reacts to today's unemployment report from the BLS:
"The 175,000 jobs added in February was a modest but welcome pickup in job creation after disappointing gains in the prior two months (84,000 in December and 129,000 in January). But we are still looking to fully regain the momentum from most of 2013 when we averaged 194,000 new jobs.
"Also, the very low labor force participation rate—which dropped by 0.8 percentage point over the 12 months of 2013—still hasn't improved much, holding its' ground at the same 63.0 percent mark as last month. A particularly big concern is that participation remains at a low level for the prime working age population between 25 and 54 years old.
"The unemployment rate was little changed at 6.7 percent, but it has been made essentially irrelevant by the low labor force participation. 
"I estimate that approximately two-thirds of the overall decline in participation since 2007 was not from the aging of the population, but from working age people leaving the labor force. This portion of the decline, 4.5 million people, lowered national income last year by over $500 billion–or 2.9 percent of GDP.
"Although there were weather effects evident in the data, it likely didn't have much impact on the February payroll jobs numbers, just as in the prior two months.
"A large number of people, 627,000, missed work because of weather in February–the most since January of 2011. Similarly, nearly 7 million people worked part time because of weather, the highest level since January of 1996 (when 10.5 million people were part-time for weather reasons). However, this didn't show up much in the payroll survey as average weekly hours was little changed at 34.2 hours (down slightly from 34.3 hours last month).
Because all of these people were counted as employed by the household survey, there was no effect on the unemployment rate. Additionally, weather generally has little effect on the number of payroll jobs are those that worked as little as one hour in the pay period covered by the survey are counted as employed."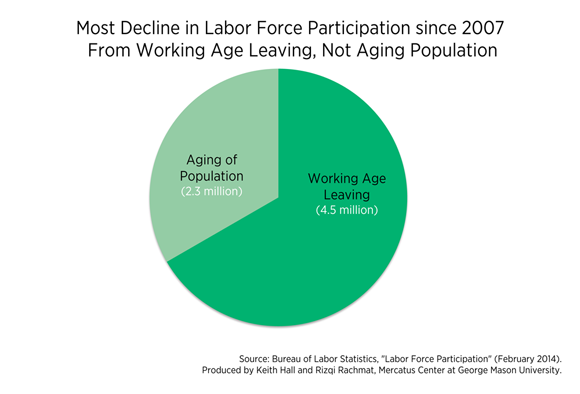 [3]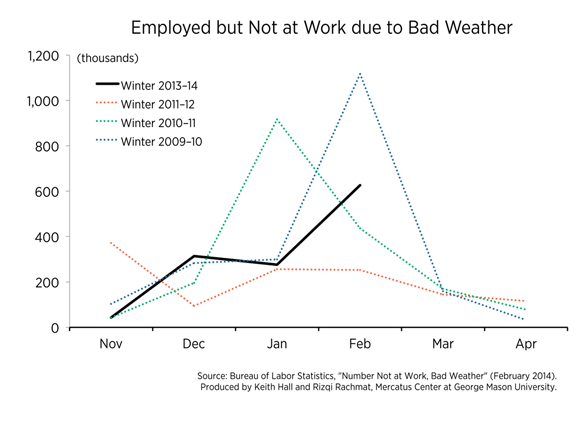 [4]