The Bureau of Labor Statistics today announced [1] that the economy added 288,000 jobs in April, but the labor force participation rate dropped by 0.4 percentage points to an alarmingly low 62.8 percent. Mercatus Center senior research fellow Keith Hall, a former BLS commissioner, responds to the data:
"The economy added a solid 288,000 jobs in April and we've now averaged about 197,000 jobs per month over the past 12 months. While the strengthening of payroll job growth strength is good news, other data in the report is a reminder that significant problems remain in the labor market.
"The labor force participation rate declined by 0.4 percentage points to a low 62.8 percent, reflecting a significant drop. For youth below the age of 25, the labor force dropped by 484,000, while the prime working age group of 25 to 54 years old saw a 490,000 person drop in the labor force. 
"The labor force participation rate has been on a downward trend during this recovery and for the third time in the last seven months the rate is at an all-time low last seen in 1978. Although the labor force participation rate can be volatile from month to month, this critical job market measure is failing to bounce back from the recession and represents a major concern.
"Data released by the BLS on Tuesday [2] also highlights another concerning long-term trend holding back a more robust jobs recovery. Historically, the formation of new businesses is an important source of job growth in the U.S., and job creation through business creation was as high as 2 million new jobs a quarter in 1999. But that number has been steadily declining since then, and the third quarter of 2013 saw only 1.3 million jobs created by new business formation—an improvement from the end of recession but still below pre-2008 levels.
"In addition, recent GDP gains haven't been enough to sustain the higher job growth we need. One indicator in Wednesday's GDP report [3] for future job growth is business investment in equipment and intellectual property products. Although this series is fairly volatile, this data generally reflects business confidence in near term growth and fell by 2.8 percent at an annual rate in the first quarter.
"We certainly need the kind of job gains in today's report, but we also need the labor force to expand and structural improvements in the economy, or this historically slow recovery will fail to pick up steam."
[4]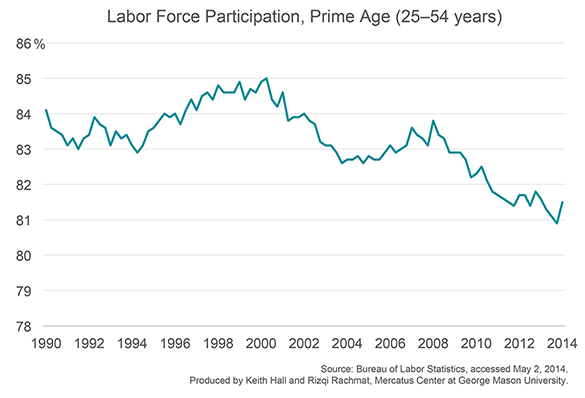 [5]