Do Defense Cuts Have an Impact on Economic Growth?
Contact us
To speak with a scholar or learn more on this topic, visit our
contact page
.
In recent weeks, politicians and pundits have often implied that reductions in defense spending would shrink the gross domestic product (GDP) and further weaken the already-weak economic recovery. Based on this week's chart series, their concerns don't appear to pan out. In fact, over the past 30 years, real economic growth has grown and shrunk irrespective of defense-spending levels.
Using data from the Office of Management and Budget, these charts (modified from Benjamin Zycher's piece)  highlight general trends between defense outlays and real GDP.
The first chart below represents the year-to-year changes in defense outlays and real GDP. The second chart shows the magnitude (or levels) of historical defense outlays and real GDP. Both measures indicate a weak relationship between defense outlays and GDP.
Figure 1. Annual Percentage Change in Gross Domestic Product and Defense Outlays
Figure 2. Gross Domestic Product and Defense Outlays, 1980–2011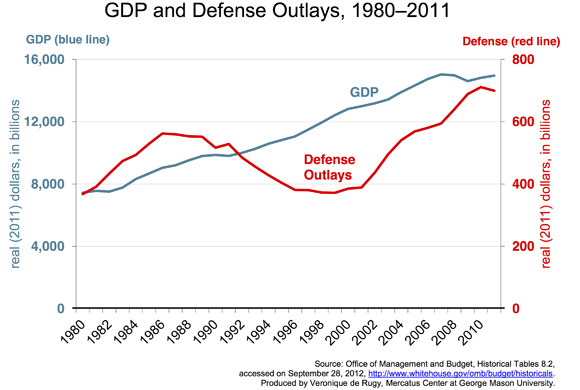 The final chart looks at the Bureau of Economic Analysis's quarterly data on the share of federal defense spending to percentage change in real gross domestic product. The data confirms that defense outlays have had virtually zero, or less than one percent, contribution to aggregate economic output between 2000 and 2012.
Figure 3. Defense Share and Percentage Change in Gross Domestic Product