National Healthcare Expenditures
Consumers' out-of pocket spending on healthcare has decreased steadily as a percentage of the United States' overall healthcare spending since the passage of Medicare in 1965 from its peak of 43% in
This chart shows out-of-pocket payments by consumers and spending by Medicaid, Medicare and private insurers on healthcare from 1965 to 2008.
Consumers' out-of pocket spending on healthcare has decreased steadily as a percentage of the United States' overall healthcare spending since the passage of Medicare in 1965 from its peak of 43% in 1965. On average, consumers' out-of pocket healthcare costs increased 6.7% each year, while national healthcare expenditures increased by an average 9.8% each year. Increases in expenditures by private insurers, Medicaid and Medicare accounted for the majority of this excess cost growth; since 1965 private insurers' spending has increased by an average 10.8% annually, Medicaid spending has increased by an average 15.4% and Medicare spending has increased by and average 15.6% each year.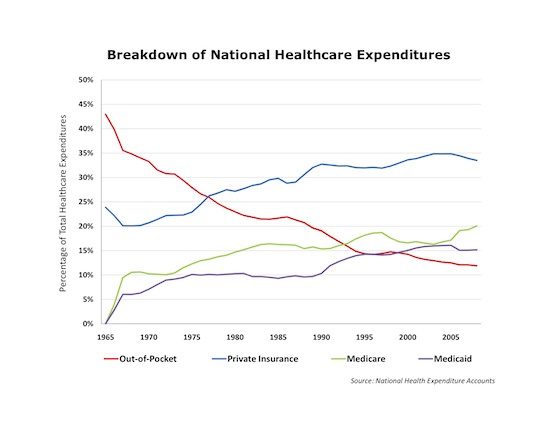 Click here to download data.