Florida's Certificate-Of-Need Laws Should Go
Assistant Director, L. Charles Hilton Jr. Center for the Study of Economic Prosperity and Individual Opportunity, Florida State University
The Florida legislative session is in high gear, with new bills being debated and voted on daily. Recently, the House passed HB 27, which removes hospitals from Florida's certificate-of-need (CON) laws. While the Senate needs to act before any changes to state law can take place, Floridians are now one step closer to lower health care costs.
State CON laws require hospitals, nursing homes, and other health care facilities to demonstrate to regulators that a "need" exists before they can expand or offer new services—as if too many qualified health care providers are a problem for patients. And to complicate things, established providers are given ample opportunity to oppose any expansion that could cut into their business. Currently, thirty-five states including Florida impose some type of CON law.
Supporters of CON laws argue they're needed to ensure that health services are spread evenly across the state. They worry that without CON laws, hospitals in more populated and affluent areas would expand at the expense of hospitals in rural areas, and that this would reduce access to care for many people.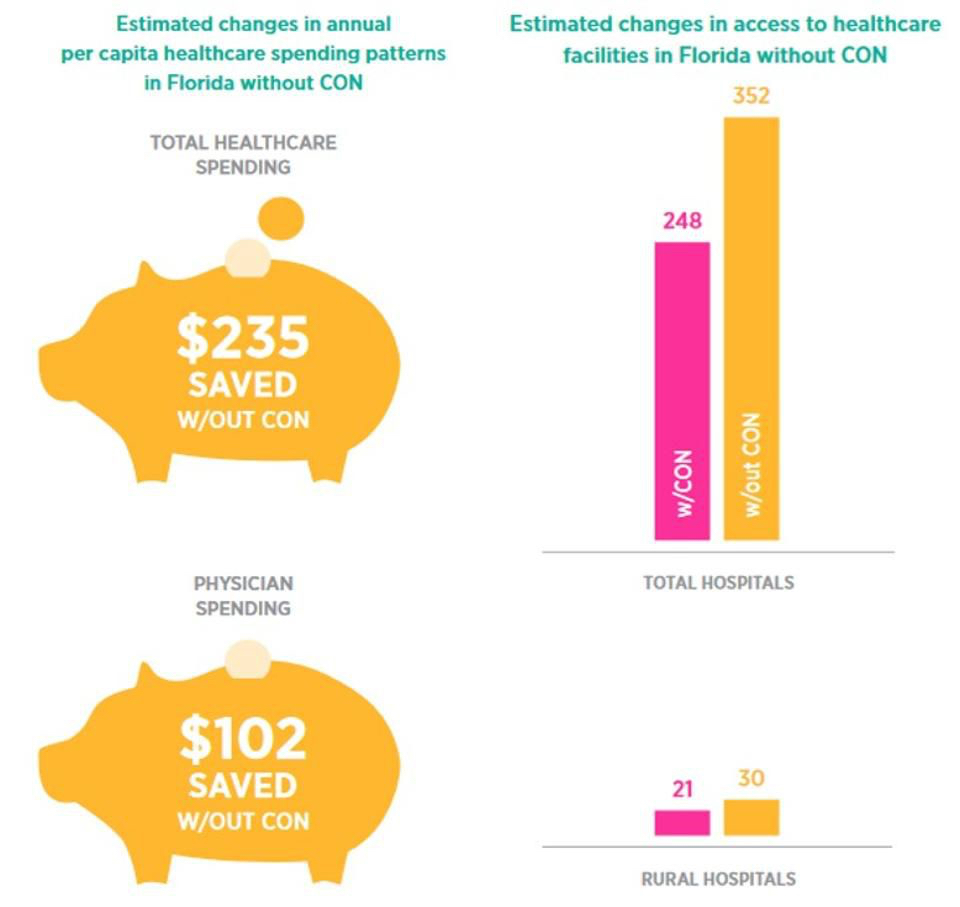 Opponents of CON laws tout the benefits of greater supply and more competition, both of which should decrease costs and increase access to care. And the research supports these claims: States without CON laws have lower per-unit health care costs and their residents tend to spend less overall on health care.
Moreover, CON laws don't appear to increase access to care in rural communities or improve the quality of care. In fact, adjusted for population, there are fewer rural hospitals in states with CON programs, and residents of CON states must drive further on average to obtain care.
Access to health care is associated with a variety of good outcomes, such as lower mortality rates and improved self-reported health. Unfortunately, CON laws require potential providers to spend time and resources demonstrating to regulators that new services are needed instead of adding them based on demand from consumers. This constraint on access reduces the quality of life for real people.
But it doesn't have to be this way. Estimates specific to Florida find that eliminating CON laws would decrease costs, increase access to care, and improve quality in the form of lower mortality rates and fewer post-surgery complications.
Health care costs are rising nationwide due to a variety of factors, but at the most basic level costs rise because supply doesn't keep pace with demand. By making it harder for hospitals to expand and add services, CON laws contribute to the rising costs of health care. Florida should join the 15 other states that have recognized this and get rid of its CON laws.