The Economic Situation: A Quarterly Commentary December 2013
Contact us
To speak with a scholar or learn more on this topic, visit our
contact page
.
Prospering and Tapering in a Struggling Economy
With autumn leaves falling and leftover Halloween jack-o-lanterns still grinning, first estimates for 3Q2013 GDP growth and news of October's employment went bump in the night and rattled the spirits of Washington's chatterbox. GDP growth came in with a "lofty" 2.8 percent real growth, which was much more than most soothsayers expected. Tapering is on the way! Or so it seemed. The stock marked tanked. Then the Bureau of Labor Statistics announced that 204,000 jobs had been added to the economy in October; this also exceeded analysts' expectations. The market recovered; the economy can handle tapering!
But while 2.8 percent growth surely looked good, when folded into a four-quarter moving average, the 2013 economy was still operating well below the 3.14 percent long-run average pace. Buried in the labor data were numbers indicating most of the growth was in relatively low-paying sectors. But they were jobs!
As indicated in the next chart, GDP's par 3.14 percent has not been meaningfully exceeded since the early 2000s, when the economy was responding to tax cuts, increased spending, and accelerated government-sponsored home lending. We know what that witch's brew fomented.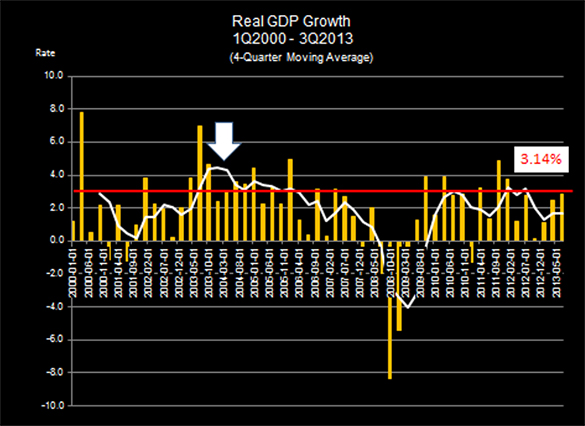 Digging into the GDP Numbers
Probing a bit deeper into the GDP analysis, one finds that the higher than expected numbers were associated with lower than expected consumer purchases. This means that about 0.8 percentage points of the 2.8 percent growth came with a run-up in final good inventories—stuff retailers hoped to sell but didn't. This doesn't augur well for 4Q2013 GDP growth, as those retailers may cut their purchases to bring inventories in line with expected sales.
But it's not likely that Black Friday and later holiday shopping will give the economy a shot in the arm. Back-to-school sales, which generally foreshadow December's holiday shopping, were below expectations this year. Big-ticket durable goods purchased partly with low-interest debt set a high pace. Retailers offered large discounts to get apparel and lower-priced goods off the shelf and out the door. There are always surprises, but fourth quarter performance will likely be well below the 2.8 percent first estimate for 3Q2013.
Probing Additional Data
The stronger than expected job numbers put the effects of the government shutdown under a statistical magnifying glass. The data seem to say the government closing did not hit the economy as hard as some expected. After all, there was full expectation that furloughed workers would be paid later.
There are more data to consider. According to the Institute for Supply Management's monthly monitors, the US economy is clearly accelerating. The recent ISM numbers are well above 50—the neutral point—for both the manufacturing and nonmanufacturing economies. Perhaps more importantly, the forward-looking Manufacturer's Alliance for Productivity Improvement's leading indicator, shown below with the ISM numbers, is pointing north, which predicts higher growth in 2014's second half.