Food Stamp Spending and Enrollment Double in Five Years
Contact us
To speak with a scholar or learn more on this topic, visit our
contact page
.
The Senate has just approved the 2012 Farm Bill, which will cost nearly $1 trillion over ten years. It's a little-known fact about the bill that 80 percent of it is spent on the food-stamps program, renamed the Supplemental Nutrition Assistance Program, or SNAP.
Four out of every five dollars in the currently debated bill—roughly $80 billion per year—will be spent on groceries bought with food stamps for one in every seven Americans. An estimated 45 million Americans received food stamps in 2011 at a cost of $78 billion. That's a two-fold increase from just five years ago, when 26 million people received benefits at a cost of $33 billion.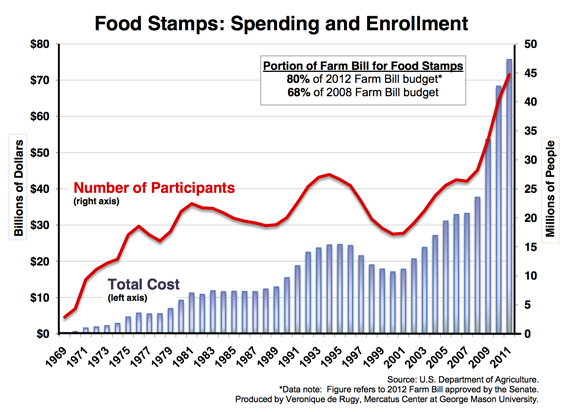 While the weak economy has played a role in the increase of food-stamp spending, this factor only tells part of the story. Food-stamp enrollment increased, and spending doubled, as unemployment and the poverty level dropped modestly between 2007 and 2011. 
In the end, nothing changes the program participation and its costs more permanently than changes to food-stamp legislation. Both the Bush and Obama administrations expanded eligibility through the 2002 and 2008 farm bills and the 2009 stimulus bill. As the data shows, spending after changes in eligibility grew by $169 billion between 2002 and 2007 and by $235 billion between 2008 and 2011.
Veronique de Rugy is a senior research fellow at the Mercatus Center at George Mason University.