GDP Growth and Payroll Changes During the 1996 Government Shutdown
Contact us
To speak with a scholar or learn more on this topic, visit our
contact page
.
Economic commentators continue to speculate about the harm inflicted on the economy by the recent partial shutdown of the federal government, but if history is any guide, much of the anxiety about the anticipated economic fallout from the shutdown this fall may be misplaced. The experience of the 1996 shutdown shows us that we shouldn't be surprised that recently released employment statistics by the Bureau of Economic Statistics show the economy created 204,000 jobs in September. 
This week's charts use data from the Bureau of Economic Analysis and Bureau of Labor Statistics to analyze GDP growth and payroll changes before and after the government shutdown that occurred from December 16, 1995 to January 6, 1996.
The first chart looks at quarterly GDP growth from 1995 until 1996. Although GDP growth did fall slightly from the 3.5 percent rate of the previous quarter to 2.9 percent in Q4 of 1995 and 2.6 percent in Q1 of 1996 (the periods that coincided with the government shutdown) GDP growth was much lower during Q1 and Q2 of 1995 when there was no shutdown. However, much of the decline in payrolls during this time can be attributed to severe winter storms that wracked the East Coast. What's more, the considerable 7.2 percent growth rate in Q2 of 1996 immediately following the shutdown and North American blizzard more than made up for the modest decreases in the previous two quarters. 
The second chart looks at monthly payroll changes during 1995 and 1996 and displays a similar trend: decreasing payroll numbers in December and January during the shutdown are followed by a sharp increase in payrolls in February of 1996. Following a downward trend in payroll numbers, December's 132,000 payroll increases were accompanied by a loss of 22,000 jobs in January. By February, however, payrolls shot up to its highest point in two years, increasing by 435,000.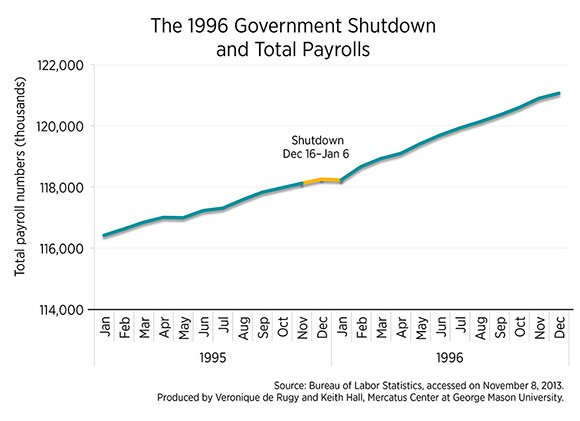 The final chart displays total payrolls during 1995 and 1996. There is a short dip in total payrolls during the months that coincided with the shutdown, but the upward trend quickly resumes in February. 
The data, which show rapid rates of GDP growth and payroll increases in the immediate month and quarter following the shutdown, suggest that employers and consumers merely "time-shifted" their plans to the next month or quarter after the economic uncertainty of the government shutdown receded. While inconvenient, the government shutdown of 1995–1996 does not appear to have had any permanent effects on the growth rate of GDP, job creation, or total number of jobs. Our experience from 1996 is that a brief, anticipated government shutdown does not devastate or derail the economy in the long run. There is no reason to believe that the effect of the 2013 government shutdown on the economy will be substantially different than that of the 1996 shutdown.