Participation in Major Antipoverty Programs Since the Financial Crisis
Contact us
To speak with a scholar or learn more on this topic, visit our
contact page
.
The United States officially exited the recession in June 2009, but spending on and participation in programs designed to help the nation's poorest families continue to swell. 
This chart shows the average monthly enrollment for three major antipoverty programs: the Supplemental Nutrition Assistance Program (SNAP) better known as food stamps; Temporary Assistance for Needy Families (TANF); and Medicaid.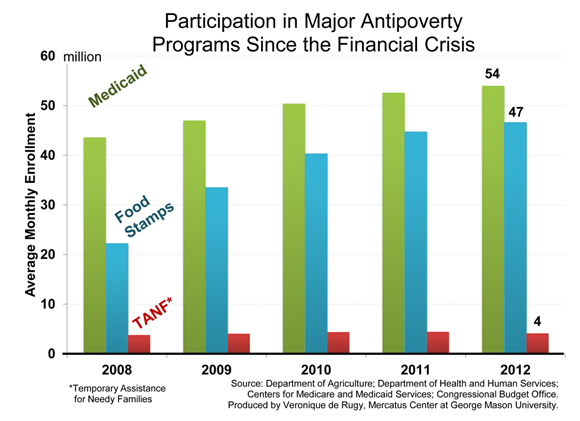 The goal of the SNAP program is to supplement the food costs of low-income households by providing benefits redeemable for groceries. Similarly, Medicaid covers payments for medical costs for low-income individuals. According to CNN Money, the federal government spends more than $350 billion a year on Medicaid and food stamps alone. TANF consists of cash assistance benefits to help low-income families with child care, additional Medicaid coverage, overcoming training or transportation barriers for work, and self-sufficiency programs. 
SNAP currently provides benefits for around 47 million people. That means one in every seven Americans receive $134 each month, at a monthly cost of more than $6 billion. According to Damian Paletta and Caroline Porter of The Wall Street Journal, SNAP recipients

have soared 70 percent since 2008. 

 
Medicaid enrollment jumped more than 12 percent, reaching more than 54 million people, or one in six Americans, since the financial crisis. In 2011, Medicaid costs totaled $432 billion. 
TANF supports roughly 4 million Americans.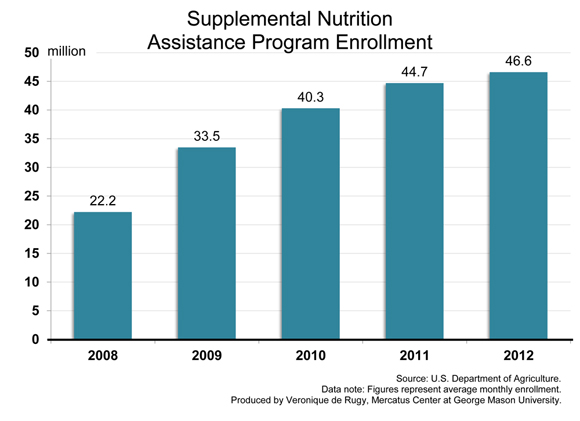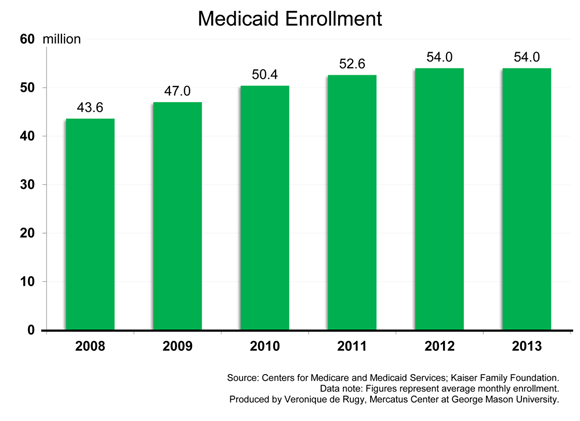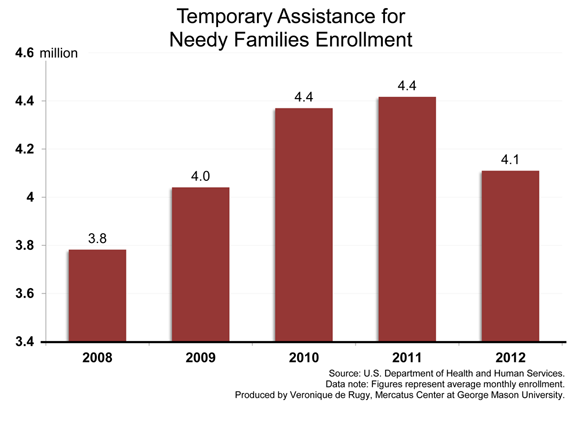 Data note:
The data are from the Department of Agriculture, Department of Health and Human Services, Centers for Medicare and Medicaid Services, and the Congressional Budget Office.