Contact us
To speak with a scholar or learn more on this topic, visit our
contact page
.
Earlier this year the Office of Management and Budget (OMB) estimated that deficits would be $1.4 trillion by the end of 2012. This chart uses historical data from the OMB to show that federal spending has exceeded collected revenues by $1 trillion for four consecutive years (shaded green). Before the recession, deficits never surpassed half a trillion dollars, shown by the relatively smaller gap between the red and blue lines.
The president's Fiscal Year 2013 budget projects yet another year of deficits exceeding the trillion-dollar mark. Worse, future deficit projections included in the president's budget greatly exceed OMB projections released only three years earlier.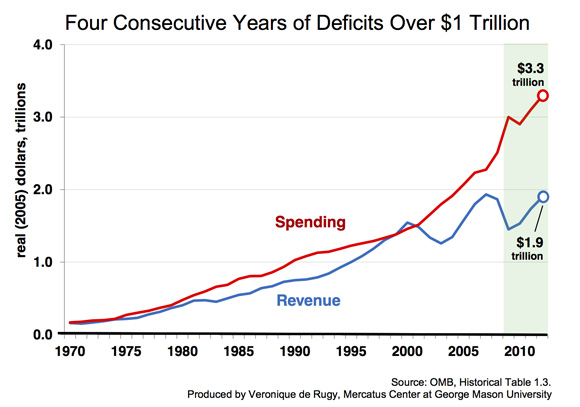 Data note: A recent report from the U.S. Department of the Treasury confirms that the deficit for the fiscal year (ending October 1, 2012) is already above $1 trillion dollars.