Where Is the OIRA Oversight of FDA Guidance Documents?
Contact us
To speak with a scholar or learn more on this topic, visit our
contact page
.
Federal agencies issue guidance documents that typically consist of sets of instructions or announcements written to inform regulated parties how to stay in compliance with the law. Owing to a confusing set of events, it is unclear whether these documents are receiving executive branch oversight from the Office of Information and Regulatory Affairs (OIRA). In the case of the Food and Drug Administration (FDA), hundreds of guidance documents appear on its website, yet there is almost no evidence of oversight from OIRA.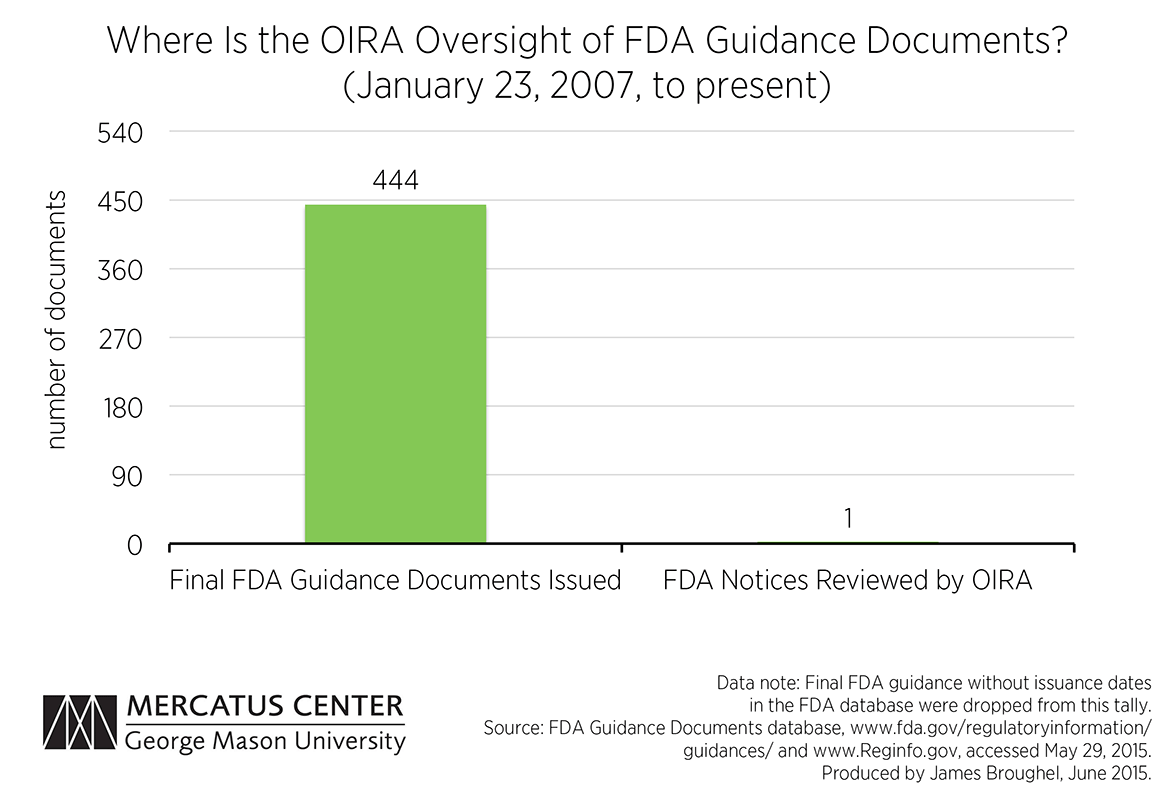 On January 23, 2007, then-President George W. Bush issued Executive Order 13422, requiring executive branch regulatory agencies to submit their significant guidance documents for review by OIRA. OIRA, an office located within the Office of Management and Budget, was already tasked with reviewing other significant regulatory actions to ensure that such actions are supported by strong technical evidence. As such, it was natural for the same office to review guidance documents likely to have significant impacts. Upon entering office, President Obama repealed President Bush's executive order.
The Office of Management and Budget, however, still maintains the right to review significant guidance, as it did even before the Bush executive order. The question that remains is the extent to which OIRA is reviewing these documents. One source that allows analysis of this activity is the FDA's new guidance document database. According to this database, the FDA has issued 444 final guidance documents since President Bush issued his executive order in 2007. The pace of guidance issuance has remained steady over time, with the FDA finalizing on average four documents a month under both the Bush and Obama administrations. This figure is likely an underestimate since many documents in the FDA database are not even dated or are not labeled as draft or final. These documents were excluded from our analysis.
Meanwhile, the OIRA website lists only one FDA "notice" as having been reviewed during this period. The OIRA website is vague as to what documents are included in its "notice" category, saying only that these are documents that announce new programs or agency policies, which presumably includes guidance documents. Alternatively, it is also possible that informal review of FDA guidance is taking place that is not tracked on the OIRA website. If this is the case, this suggests a serious transparency problem exists. Regardless, the statistics available to the public suggest that there is little OIRA oversight of FDA activities when it comes to guidance.
The FDA is just one of dozens of executive branch and independent agencies that have the ability to issue guidance. If the FDA experience is representative of oversight at these other federal agencies, this is reason for concern since the effects of agency guidance often mirror those of regulations. In fact, a recent report by the Government Accountability Office chastised several agencies for a lack of compliance with agency good guidance practices. This suggests that both procedures and oversight are lacking with respect to guidance and need improvement.