The release of the June labor market data marks the third anniversary of the official end of the recession in June 2009. Thus, this is a good moment to look at the single best indicator of U.S. labor market health. As is so often the case, it is also one of the simplest: the employment-to-population ratio. In essence, this tells us what share of the working-age population (16-years old and above) has a job. When the ratio goes up, things are getting better. When it doesn't, the labor market is not recovering.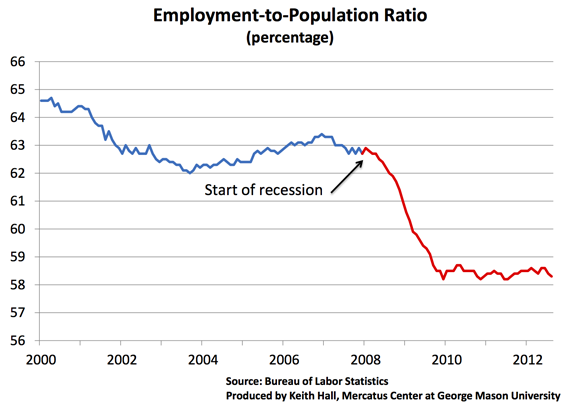 [1]
So, what kind of labor market recovery have we seen over the past three years? As the graph shows, the answer is simple: NONE. Job growth hasn't been strong enough to support our growing population. The employment-to-population ratio was 59.4% three years ago. It hit a 25-year low of 58.5% in October of 2009, and yet it remains at just 58.6% today.
To know what kind of job growth we need for economic recovery, we must first realize that the United States is still a growing nation. Each month, the working-age population grows by an estimated 180,000 people. Simply to support this growing population, we need to add at least 130,000 new jobs. With anything less, we fall further behind. No matter what the other economic data indicates, a true labor market recovery requires job growth strong enough to consistently raise the employment-to-population ratio. This would mean adding at least 250,000 new jobs per month, every month, for years.