Today, the Mercatus Center at George Mason University [1] launched the latest version of RegData [2], a tool created by Patrick McLaughlin [3] and Omar Al-Ubaydli [4] that improves the way we measure the size and scope of federal regulations.
In today's edition of The Hill [5], McLaughlin explains how RegData 2.0 offers novel metrics of an important input in our economy — federal regulation — and takes the first step in using a "Moneyball" approach to improving the regulatory system.
How Is RegData Different?
RegData significantly improves upon previous methods to measure regulation by searching the federal register and counting the number of restrictions. Previous methods, such as counting pages in the federal register, lack the accuracy of counting the number of command words in the federal register's text. All of the data is accessible and available for download on the website.
How Can I Use RegData?
Go beyond 'page' or 'rule' count: RegData 2.0 allows you to assess regulations by number of restrictions per regulator, or restrictions relative to total words
See how the regulatory metrics compare across industries
See how much regulation comes from a particular agency, bureau, committee, or administration per year
See how regulatory restrictions have changed over time in a particular industry
Examine whether agency regulatory production rates change after major acts of Congress
To learn more about how to use RegData, watch this tutorial [6] from Patrick McLaughlin.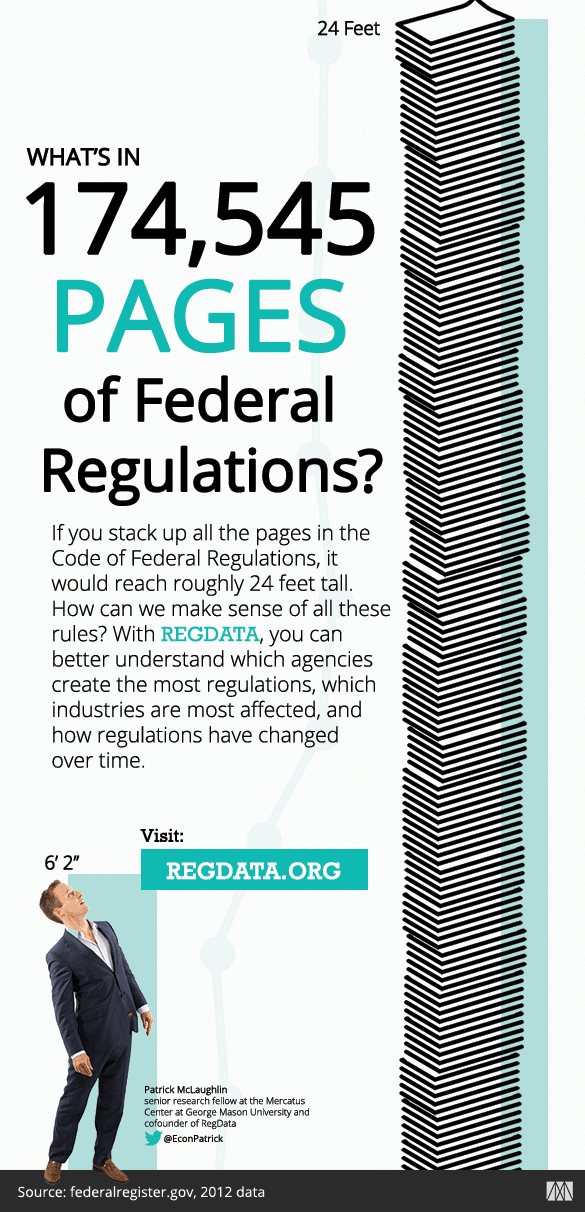 [7]